Cats and Redirected Aggression
Aggression is a universal animal behavior. Cats, like all animals can become aggressive depending on the circumstances. One common aggressive behavior cats and other animals sometimes display is called redirected aggression.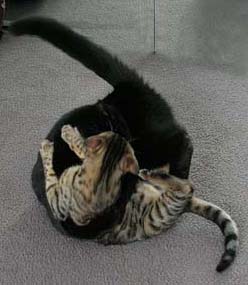 There are many flavors of aggression, all triggered by a variety of circumstances and expressed in a number of ways. Aggressive displays usually start with vocalizations, though cats sometimes initially broadcast their agitation through spraying and other marking behaviors. If the problem isn't resolved or contained the agitation can escalate to the point of becoming physically harmful. It is terrible to witness aggression—worse to become the recipient of the behavior.
Definition and causes of redirected aggression

Redirected aggression is an alarming behavior that animals, including cats display under specific circumstances. This behavior makes victims out of innocent by-standers. Anyone, cat, dog or person who happens to be nearby or attempts to intervene can become the unfortunate recipient. Redirected aggression occurs when cats cannot respond directly to perceived threats and subsequently vent their frustrations on to the nearest animal. Other unexpected and startling stimuli in the environment can also cause this frightening reaction. The most common causes of redirected aggression in cats are other animals. Cat parents sometimes witness neighborhood animals hanging out around their homes—in full view of their indoor resident cats. The agitated insiders respond fractiously to the unwelcome visitors, doing everything within their power to reach the instigators, but without success. Being highly agitated, they turn their frustrations on whoever is nearest to them.
The fall out of redirected aggression
This aggression can lead to serious consequences. If the behavior is not immediately addressed, cats who were bonded buddies can become sworn life-time enemies. The experience can be so traumatic, that a once sweet relationship becomes fearful and vicious. Although the cats probably do not remember the initial trigger, they have formed negative and fearful associations with each other.
Addressing redirected aggression
Take steps to keep redirected aggression from destroying relationships. In addition to immediately separating fractious cats from each other, remove them from the source of the aggression. Ideally, it is best to separate them before they start brawling, but that is not always possible. Never use hands, other body parts or stand between fighting animals. Doing so pretty much guarantees becoming a casualty of war.
Depending on the circumstances and the intensity of the interaction, a flat piece of cardboard, slipped between the cats can create an instance of distraction and separation—an opportunity for one cat to flee. Sometimes a loud noise can briefly interrupt the fighting, long enough for one of the cats to escape. Every situation is different, what works to separate cats in one may not work in another.
Can we be friends again?
Warring animals, once separated should be herded into their own quiet rooms for a cool off period away from each other. Darken the rooms by pulling shades and turning lights off and then leave them alone. Cool down periods may last a few hours or a day.
Because the fall out of redirected aggression can be serious and long lasting, cats may need to remain in separate areas for awhile and then gradually re-introduced to each other.
More help
For further help with redirected aggression or other behavior challenges, contact Marilyn to discuss scheduling a consultation.