My intention is to write a blog at least twice a month and update my Bits and Bytes every week. As we all know, the world is paved with good intentions. I think I have a good excuse though. No, my dog didn't eat my homework and for that matter, neither did my cat. I also wasn't caught in a flood or earthquake that separated me from my computer.  It is all good. I have a valid excuse.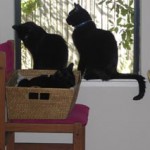 A couple of months ago I was contacted by a production company in the UK about a special on cat behavior being produced for TV. The plan was for their camera crew to fly to the US and follow a cat behaviorist around for 2-3 days as he or she conducted cat behavior consultations. They asked me! And of course, I said yes! I felt honored (still do) that they chose me.  And, I loved every minute of it—from finding clients who were fine with being filmed to the filming. The UK film crew was fabulous to work with. They were gracious, fun, knowledgeable and two added bonuses—they love animals and they love tea.
Check out the pictures. Of course there are a hundred stories I could relate about each picture and each location. Note the fabulous ceiling in one of the pictures. This is the ceiling of a gorgeous Victorian house where one of my client's lives. The other pictures are of the film crew with me on location in the other two homes where we filmed. The three black cats belong to one of my clients. I was helping the cats adjust to the imminent arrival of a newborn baby boy.
The program is scheduled to aire at the end of the year both in the UK and here in the US. More specific details about it will be posted later this year.
If you are curious to see how I look on TV, check out this segment from Animal Planet's Cats 101.